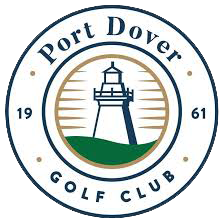 Bring your tournament to Port Dover Golf Club!
Championship course: 6500 yards
Perfectly Conditioned
4 sets of tees
Driving Range
Large patio and indoor dinning available.
Tournament meal selection available
Port Dover Scoring App Available
Friendly and most knowledgeable staff anywhere
Play the course the pros play
Please email us at golf@portdovergolfclub.com or call 519.428.9993 (ext. 223) for more information.
Cam Forbes CPGA – Golf Professional
Tournament Menu
Breakfast items
Coffee, Tea Muffins $4.50
Breakfast sandwich $6.50
Bacon or sausage with eggs, toast, home fries and coffee or tea $9.99
Juice $2.50 Fruit Cup $3.50 Yogurt $2.50
On the turn $7.99 Sandwiches, Hot Dogs, Sausages and Bottled Water. Add cookie $1.00 Add chips $1.75
Casual Meals
Hamburger or Grilled Chicken Breast on a bun with garden salad and fresh cut fries $15.99
Beef dip 6oz slow cooked roast beef on a bun with garden salad and fries $15.99
Plated Dinners (All meals come with garden salad, roasted potatoes, seasonal veg and dessert)
Roast Beef Dinner AAA slow roasted striploin with rich beef au jus $26.99
Chicken Breast Plump and Seasoned $27.99
Chicken Parmesan on pasta with Garlic Bread $22.99
10 oz. New York Strip Loin Charbroiled $34.99
Buffet Dinners (Includes fresh baked rolls, garden salad, pasta salad, penne in a robust tomato sauce, herb roasted potatoes seasonal veggies , dessert platter with assorted mini tarts & cookies.
Roast Beef Carvery AAA slow roasted striploin with rich au jus $34.99
Portuguese Chicken and Ribs 1/2 chicken and slow cooked BBQ Ribs $31.99
Roast Beef and Chicken AAA Striploin Juicy Chicken Breast $36.99
Italian Buffet -Caesar Salad, Breaded Chicken Cutlet, Sausage, Peppers and Onions in a Robust Tomato Penne with Garlic Bread $27.99